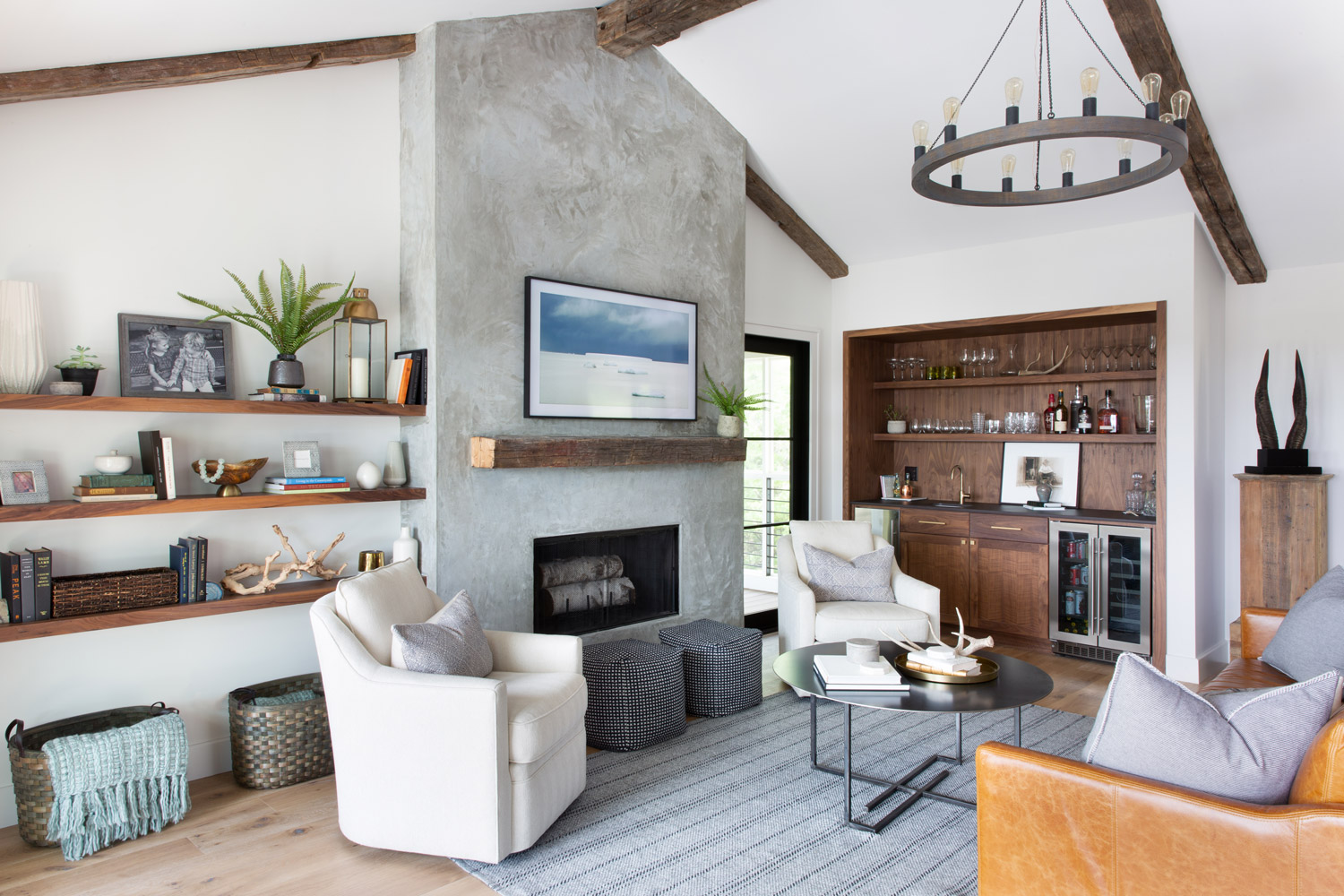 5 December 2022
Most people would agree that having a fireplace in the living room is great feature. It's a natural focal point and is a top design feature pros recommend for creating a stylish and functional living space.
However, it can come with a few challenges. Furniture placement, scale and orientation are just a few of those challenges when figuring out how to style the space for comfort and style. Just keep in mind the appropriate design elements as you plan, balance, scale and orientation. Creating a balanced and harmonious space depends on three things: furniture and décor placement, use of color and texture, and the scale and proportion of furnishings and décor. Here are a few tips to help you when designing around a fireplace.
Balance
One popular layout of furniture is to place seating on each side, like we did for our Davenport Remodel shown above. This arrangement not only promotes conversation but also allows you to feel the heat. For this layout, we used two sofas and armchairs that are placed opposite each other. The balance invokes a feeling of wellness to the room.

Scale
Scale is an important component to keep in mind when designing a room around a fireplace. This gas fireplace has a sleek look and allowed us to design the furniture in a very open layout. The sectional and the two armchairs create a warm and cozy space for conversation and watching movies. They also counter balance the weight of the fireplace surround within the space.
.
Photography by Ryann Ford Photograph Design by BANDD/DESIGN
Texture
Texture is a major element with fireplaces, because they can be such textural focal points in the room depending on what they're made of. With a stone fireplace, such as this one above, you want to balance the texture with some other features in the room that are more soft and comfortable. We created a warm and cozy space with the softness of the sofa and side chairs.
Photography by Madeleine Landry Design by BANDD/DESIGN
Orientation
Designing the orientation around a fireplace is key to integration and cohesion. In this living room, we created an open space with the seating that circles the fireplace. It optimizes conversation and connection. We also placed two small ottomans for additional seating with out breaking up the flow of the room, they are a perfect extension without overcrowding the room.