26 June 2020
As we almost approach month five of spending the majority of our time at home due to the COVID pandemic, we've all either changed up some things around our house or have noticed something in our homes that we think could use a makeover. Our team here at BANDD has crafted our own little guide to the basics of home design so that all of you DIYers can work on your homes! Plus, we made it easy for ya and added in some graphics to help those of you who are more visual learners. Keep reading below to check out our tips!
How To Choose The Right Window Treatment
The right window treatments can bring a whole space together, we like to think of window treatments as being like the jewelry of the room. For spaces where you don't want drapery touching the floor, such as kitchens, bathrooms, and laundry rooms, use Roman shades on your windows. Roman shades are also a great choice for places where there are pieces of furniture close up to the wall, such as a bed or a chair being right up next to the window. For rooms that have tall ceilings or feel a little too empty and open, drapery panels and curtains are great for making the room feel more cohesive, as well as making the walls feel taller. We tend to stay away from plantation shutters because this type of window treatment can really block out natural light, which is so important no matter the space for making the room feel bright and open.
How To Hang Your Drapery At The Correct Height
There's a common misconception when it comes to hanging your drapery at the correct height. Your curtain rod shouldn't be the exact width of your window and neither should the height of the drapery. We recommend hanging your curtain rod a couple inches higher than the top of your window and letting the drapery extend past the width of your windows. Your drapery should be long enough to kiss the floor, instead of hanging slightly above or puddling on the ground.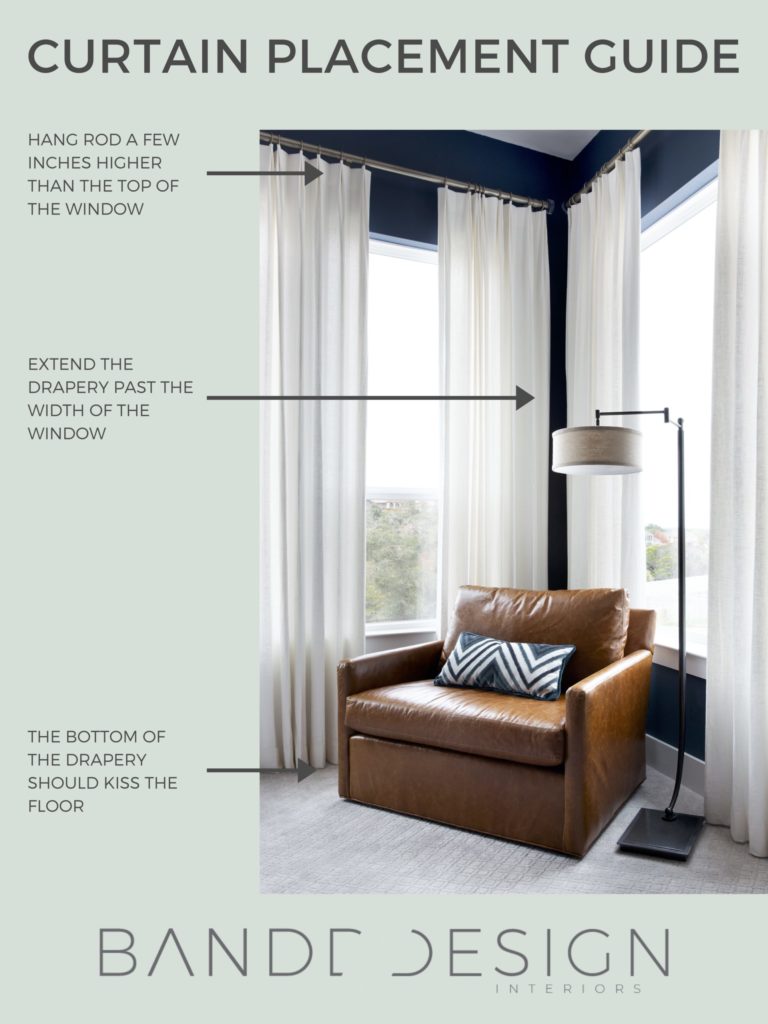 How To Hang Your Light Fixture At The Right Height
Adding in a new light fixture to your space? If you're hanging a chandelier or a pendant light over your dining room table, it should generally be about 36 inches off of the surface of the table. Feel free to play around with the height and go a few inches higher or lower, but try not to go lower than 33 inches from the tabletop so that you are able to see people across the dining table when you're seated. For kitchen island pendants, you should hang them somewhere between 36 to 42 inches from the countertop. For open areas such as living rooms, bedrooms, or entry ways the light fixture should hang about 7 feet off of the ground. If you have higher ceilings however, then of course hang your lighting accordingly to fit that height. 
I absolutely love bedside sconces and pendants rather than an ordinary table lamp because it gives a more custom feeling to the space! If you're using a sconce as your bedside light source, it should hang 18-20 inches from the top of your nightstand, or 55-60 inches between the floor and the top of the sconce if you don't have nightstands. As for bedside pendant lights, they should be 19-24 inches from the top of your nightstand.
How To Swap Your Cabinet Hardware
Switching out the hardware on your drawers, cabinets, or furniture is one of the easiest ways to update your space! Single knob handles are easy to swap out because the holes and screws are standard size. So you'll just need to unscrew the knob from the hole and screw your new knob in. For drawers and cabinets that have pulls, you'll want to remove your current hardware and measure the distance between each hole. Be sure that you are measuring from the centerline of each hole, not the inside or outside of each hole. Also measure the depth of your cabinet or drawer so that you know how long the screw needs to be on your new hardware.
How To Hang Your Wall Art At The Correct Height
The rule of thumb for hanging wall art at the correct height is that you'll want the center of the piece to meet your eye or serve as a focal point above a piece of furniture. For hanging art over a sofa, console table, desk, or anything of that sort, you'll want to hang the piece so that the bottom of the frame is 5 to 9 inches above the furniture. Hanging artwork above a bed can differ here and there based on the scale of the room and headboard, but generally you should hang the piece 4 to 6 inches above the headboard of your bed. If you're hanging a piece that isn't close to or hanging above any furniture, try to place it so that the center of the artwork is 57 to 60 inches from the ground.