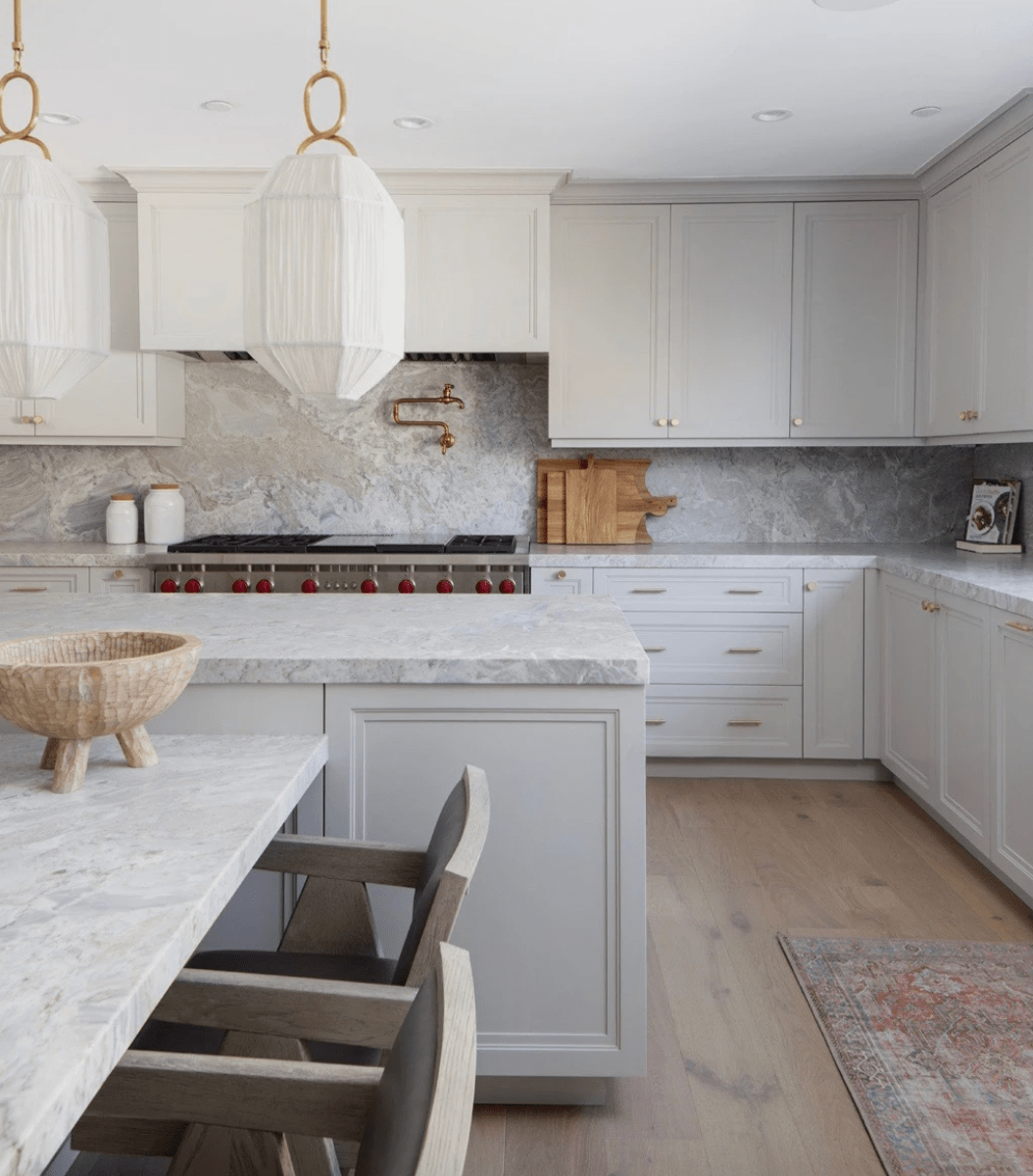 26 February 2021
Is it just me, or does it feel like everyone is trying to remodel their kitchen right now? We've had tons of requests from clients lately regarding what cabinetry they should use in their kitchen instead of shaker-style cabinets to have it feel more updated and custom. Of course, there is nothing wrong with shaker cabinetry, as it gives a timeless, simple feel and works with many design styles. However, this style of cabinetry is commonly used in most builder-grade homes and we've seen it used over and over. It's time for something a bit more unique to come into the mix when designing kitchens or bathrooms!
For those of you who don't know what shaker-style cabinetry is, here's the low-down. Shaker cabinets have a flat panel with four edges, each a few inches wide, that frame the center panel. This is the most popular style of cabinetry and has been a staple in kitchen and bathroom design for decades. We've used shaker cabinets in several of our projects and they always provide a classic, clean look in the space.
If you're looking to shake things up in your kitchen, you're friends here at BANDD are here to help! Here are our designer-approved alternatives to shaker-style cabinetry.
Raised-Panel Cabinets
Raised-panel cabinets are a great option if you like the classic look that shaker-style has but want to bring in a little more detail and character. This cabinetry style consist of a raised framing or overlay trim with a center panel that is raised slightly more than the door. This is a beautiful style that is timeless and adds depth to your space.
Flat Panel/ Slab Cabinets
For those of you going for a more modern or minimalist look, flat panel or slab cabinetry is a perfect option for you. This style of cabinetry is very simple in its design, as it only consists of one panel. Not only does flat panel give a polished and sleek look a space, its also extremely easy to clean and is budget friendly!
Inset Cabinets
Similarly to raised-panel, inset cabinets provide a classic and timeless look, but have a more modern touch to them. Inset cabinetry is crafted so that the door frame fits inside of the cabinet for a smooth, sleek appearance; while the center panel is tucked behind to add some depth. I personally think that this style of cabinetry looks best when the hinges are a hidden mount so that they can't be seen when the cabinet door is closed.
Beveled Edge Cabinets
My personal favorite cabinet style is one with a slight beveled edge. Commonly, cabinet doors are cut with a straight 90 degree angel between the center panel and the framing or stile. Beveled cabinets instead use a 30 or 45 degree cut to create more visual interest. This is a gorgeous style to bring a softer, contemporary twist to a standard cabinet design.
Glass Cabinets
Let your kitchen be on display with glass front cabinetry! This cabinet style can really make the space feel open and fresh. I recommend pairing glass cabinets with another style of cabinetry, such as a raised-panel or slab, and using them as the higher cabinetry to balance out the room and make a subtle statement. These cabinets look especially stunning when used in a kitchen that has a coffee bar or dry/wet bar.
Mix & Match
Mix things up by using two different cabinetry styles to create visual interest! This is a look that I'll always love and it sure will bust you out of the builder grade feeling. One gorgeous option is pairing flat panel or slab cabinetry with open shelving up top to open up your kitchen and create a more contemporary aesthetic.
Mixing raised panel cabinets with a flat panel is also a beautiful choice if you're looking to add a more unique touch. I'm absolutely obsessed with this kitchen design by Kate Marker Interiors and how she used different cabinet styles, as well as different colors for each to add contrast.