19 February 2021
Mixed metals have been popular in the design world for a few years now, and this is a trend that we don't see going away any time soon. Pairing different metals together can really add visual interest and contrast to a space. But, sometimes mixed metals can look a little tacky and over the top if they aren't executed right. Have no fear, BANDD is here to share our tips for how to mix metals.
Before we dive in completely, let's cover the basics. There's quite a bit of different metals out there that are commonly used for home decor, which can be classified in the following categories: cool, warm, and dark metals. Cool metals include nickel, silver, chrome, stainless steel, and aluminum. While warm metals are gold, brass, and copper. Dark metals, on the other hand, serve more as a base and include cast iron, matte black, and black metals.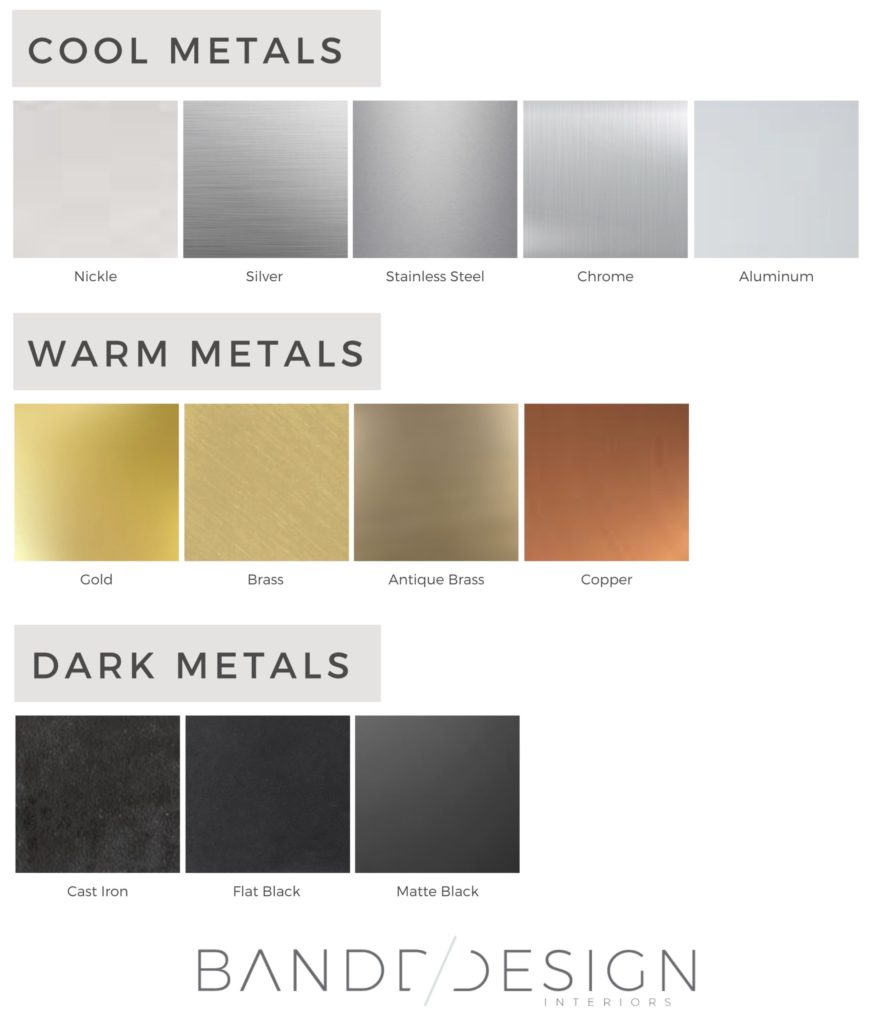 Identify The Primary Metal
First things first, choose a metal that will serve as the 'star of the show' – the one that you will be focusing on the most. The primary metal will help determine which metals to pair it with and how they will be incorporated. If the space you're working with is a bathroom or kitchen, then take a look at what metal is used for the hardware, faucets, and finishes. Unless you're planning to swap out any of those current finishes, that metal will be your primary. As for other spaces, such as your living room or dining room, then determine your primary metal based on the furnishings that you already have; the legs of the chairs, base of the table, etc.
For example, when we were designing the kitchen for our Lost Creek Remodel project, we knew that matte black would be our primary metal because it pairs best with the gray cabinetry. Based on our primary metal, we decided to use copper as our accent because it brought beautiful contrast to the black hardware and cool metals would blend in too much with the space.
Select Your Accent Metals
Now that you have your primary metal, it's time to start mixing and matching! Choose 2 or 3 accent metals to compliment your main one. One of your accent metals should be incorporated through installed decor; such as on the light fixture(s) or hardware. I recommend trying to balance out warm and cool tones when it comes to selecting the accent metals so that they create contrast and really stand out. For example, if your primary metal was black, then go for brass or copper. If it was nickel, then go for a brushed gold.
As for your other accent metal (if you choose to include another), it should be contrasting with your other metals. If you've selected a silver and a brass already, then go for a black metal to balance them out – and vise versa. This new accent metal should be more subtle than the others, so incorporate it through decorative pieces such as accessories, artwork/ frames, mirrors, and furnishing legs or detail.
Spread Em' Out
Before you start adding all of your metal selections into your space, take a moment to visualize where they are going to be placed. First things first, take note of where the installed metals are or will be (faucets, hardware, lighting, etc.) since those will determine the rest of the placement. Be sure to spread out your metals both vertically and horizontally so that they aren't clustered together. This will help make the space feel cohesive. For instance, one metal is used up high on the light fixture(s), the other is lower being used on furnishings, another is spread out horizontally on hardware, and so on.
Also consider the decor surrounding the room that the metals will be working with. In our Dream Catcher project we knew that the furnishings and decor would be more on the cooler side, so we brought in some warmth above by using a brass chandelier and also incorporating that metal in various accessories across the room to tie it all together. We used a black metal as one of our accents, which was included on furnishings and a mirror. The more subtle accent metal was a silver that was part of the furnishing's legs and detail.