3 February 2023
The kitchen is said to be the heart of any home, and many homeowners want their kitchens to be a place where they can both cook and entertain. If you're planning a kitchen remodel, read this first: Hiring an interior designer for your kitchen remodel can make the process simpler and more efficient. 
Design by BANDD/DESIGN Photography by Molly Culver
Professionals
An interior designer can provide you with an expert eye for design, creating a unique space that meets your exact needs and requirements. We are trained to know the latest trends in kitchen design, as well as what works best in certain spaces. With our skills, we can create an efficient layout that makes the most of your available space.
Time Savers
Designers can save you time and hassle by helping to plan out a layout that meets all your criteria. From the placement of appliances and countertops, to storage solutions and seating areas, as experts, we can create the perfect kitchen for any family or lifestyle. This means that you can have a finished, beautiful kitchen in much less time than it would take to DIY.
Let the Pros Handle It
We're trained professionals who know the ins and outs of designing a functional and aesthetically pleasing kitchen. How different materials, designs, and appliances will interact with each other to create the desired look and feel. As well as which materials will last the longest and have the most impact on your home's value. This expertise ensures that you get a quality kitchen without any unexpected surprises or costly mistakes.
Design by BANDD/DESIGN Photography by Molly Culver
Budget Friendly
We're also mindful of your budget and work within it to create something beautiful that won't break the bank. Designers understand which materials and designs will give you the most bang for your buck, so you don't have to worry about spending too much money. 
Stress-Relievers
Renovating a kitchen can be an overwhelming process, but a designer can take some of that stress off your hands. We handle all the details like ordering materials, coordinating with contractors, and keeping the project on track. Plus, answer any questions or concerns you may have throughout the renovation process.
Space Saver
Designers are experts in making the most of your space—something that an amateur renovator might struggle with. We're able to develop creative solutions that maximize storage and use of the area, which can help give you a kitchen that looks beautiful and functions efficiently.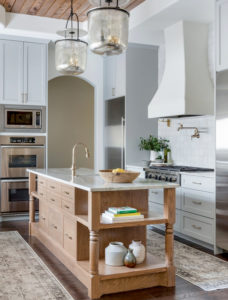 Design by BANDD/DESIGN Photography by Molly Culver
Saves You Money
While it may seem counterintuitive, hiring a designer can actually save you money in the long run. As professionals, we can identify any underlying problems with the existing space and develop solutions that are cost-effective. Plus, help you stay within budget and avoid making costly mistakes.
Support
Finally, engaging a designer provides you with support throughout the entire process. We're there to answer any questions you may have about the design, materials, and other aspects of the project. Plus, we can provide timely advice and assistance during installation. This means that your kitchen will be installed correctly from the start – giving you peace of mind that it will last for years to come. More ideas here!